9/11 Ten Years Later: How Hip Hop Responded
10 years. I still remember being in my 5th grade classroom, coming back from library class to hear the news from my teacher. Not every class room had a TV so we had a few other classes crammed into ours to watch the events happening. Silence. Confusion. A classroom full with 70+ 10 year olds and you could hear a pin drop.
I know I'll never forget those moments and the days that followed. Through tragedy struck from heartless acts of terror on our country, came patriotism. I remember not being able to drive down the street at night without seeing a candle light vigil set up on every corner. People getting together just because. American flags on every house, car, business, and telephone pole. That's how us, as citizens responded to those events. How did hip hop do it?
Petey Pablo remixes his own song to make "Raise Up (USA Flag Remix)" 
Now, when I could put on a hip hop song that even my mom wouldn't change, you know it's gotta mean something. I remember no matter how many times I heard this song, I got chills when Petey says "Say it loud, UNITED STATES OF AMERICA!" Hip Hop's first real 9/11 reference was this song dedicated to it and I think Petey Pablo did a real good job making us feel proud of our country. He did it in a manor that people who love the hip hop culture can relate to. Not that "God Bless America" doesn't give me chills, but waving a flag around and head bobbing is a nice change from the traditional "right hand over your heart" anthems.
"Why did Bush knock down the Towers?" – Jadakiss from his song "Why"
Jada went right at the throat of our former President and our government here with simply one line. There's a lot of conspiracy theories out there that believe our government was behind the attacks of 9/11. Clearly, Jada is one of those who believe so.
"Time to get paid, blow up like the World Trade." Notorious B.I.G. from his song Juicy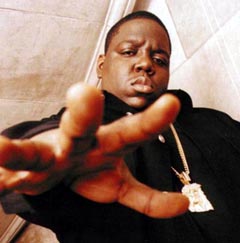 I know, I know. This technically doesn't count because he's not actually talking about 9/11. (This is what he was talking about.) But think about it, we always did say Biggie was ahead of his time. In more ways than one apparently.
"9/11, building 7, did they really pull it?" – Lupe Fiasco in his song "Words I Never Said"
Lupe brings up the other conspiracy of 9/11 that the government actually had placed explosives in building 7 of the World Trade Center. (Read More here.) Never one to bite his tongue about anything, Lupe goes off on numerous political subjects in this song.  His line isn't too farfetched here considering there are numerous people who believe these events actually went down.
"It's the home of 9/11, the place of the lost towers, we still banging, we never lost power." – Juelz Santana from the track "Welcome to New York City"
Petey Pablo focused his song on our country as a whole, whereas Juelz focused in on the city of New York. Juelz lets us know that the city stayed strong. The huge hole left in the hearts, minds, and the lower Manhattan skyline, was filled with the passion these New Yorkers have.
Those were a few examples of where some of hip hops biggest names stand on this tragic day. We've seen national and city wide patriotism. Conspiracies of all sorts. Foreshadowing from our late greats. Even questioning and pointing a finger at the people who govern our country. Even if we don't have answers to all of those questions just yet, or maybe never, we do know one thing: Hip hop will have an opinion, and they will voice it. None of us will ever forget the events that took place, or where we were when they happened. May everyone who passed on that tragic day rest in peace and God bless America.
If there are any 9/11 references you feel should also be mentioned or you'd like to bring up, feel free to leave a comment or hit me up on Twitter.
– Follow me @TheMikeDaSilva
Comments