5 Albums. 5 Different Artists. For The Rest Of Your Life. Go!
Here's a hypothetical situation for you: You've been banished to a deserted island and you're allowed to bring 5 albums to listen to for the rest of your life. The only catch is that they have to each be from a different artist. Leave your 5 in the comments below or on Twitter. Here are mine.
Reasonable Doubt- Jay-Z
What's a lifetime of limited music if it doesn't include Hov? Is this not his greatest album? The old school, hungry Jigga man murders EVERY track on this album. The controversial Nas sample on "Dead Presidents." Trading bars with the late, great Notorious B.I.G. on "Brooklyn's Finest." The raw, malicious word play and double entendre filled bars from "D'Evils." I mean, it's pretty self explanatory. HIS FIRST VERSE on "22 Two's" man?!?! Yeah, no "Regrets" bringing this album with me…
Marshall Mathers LP- Eminem
This album right here changed the way I looked at music, period. I never studied and soaked in an album so much as I did with this one. Only Em could go from the fed up, pissed off Marshall Mathers on "The Way I Am" to the quirky, fun loving Slim Shady on "The Real Slim Shady" on the next track. The controversial, hate filled bars from "Kill You," "Criminal" and (gulp) "Kim." Call me a "Stan" but Eminem is my favorite ever, and this album is definitely coming with me on my island…
College Dropout- Kanye West
Kanye's hottest verses of his career came from this album right here. "Mayonnaise colored Benz, I push miracle whips." That line just sticks out on a track that we not only get some of Kanye's hottest lines ever, but the whole back story of how he became a rapper on "Last Call." He spit "Through the Wire" literally. Raised our spirits on "Never Let Me Down" got our hands up on "Get em High." Although his production kept evolving and his albums stayed consistently good, this was his best lyrically. College Dropout is coming with me when it "All Falls Down."
Life After Death – Notorious B.I.G.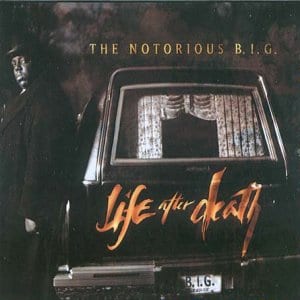 I was in a toss up between this and "Ready to Die." Like, how do you choose between them? My solution? This one has more songs. It has the classics hits  "Hypnotize" and  "Mo Money, Mo Problems." An underrated favorite of mine in "Sky's the Limit." I can picture myself in that little venue when BIG says "Good evening ladies and gentleman." So, I better be allowed this album if you don't want me asking "What's Beef?" till my "Last Day."
Chronic 2001- Dr Dre
THE greatest produced album of all time. From start to finish. "Xxplosive" still gives me the chills every time that beat drops. Nate Dogg's verse son?! Eminem's verse on "What's the Difference?" son?! The piano on "Still Dre" son?! You get the picture. I'll be sure that I NEVER "Forgot About Dre" and take this with me till "The Next Episode."
Everyone has albums that bring them back to a certain point in their life and those are mine. All classics in my opinion. What would you choose?
Follow me on Twitter – @TheMikeDaSilva
Comments